Get locally made TSUBAMESANJO special products at local prices.
Browse a rich assortment of products that build upon a foundation of craftsmanship with traditional technique and cutting-edge technology. Our 800㎡ sales floor features nearly 10,000 unique items including kitchen utensils, pots, and tools in addition to locally made metal works. Don't miss our collection of Niigata delicacies like locally brewed sake, koshi-hikari rice, and traditional sweets.
World famous "Made in TSUBAMESANJO"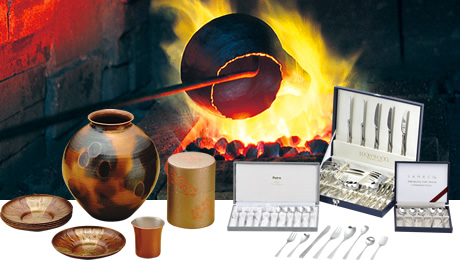 Tsubame's works

Tsubame tableware dates back to the Edo Period when the manufacturing of carpentry nails was developed to support the needs of local farmers. Later, the production of metal files, tobacco pipes and copperware was introduced during the Taisho Period. This metalworking technology lead to the modern style of cutlery and kitchen tools. Currently, Tsubame's cutlery keeps more than 90% of market share in Japan, leading in both the domestic and export market.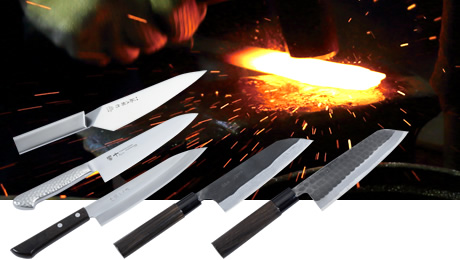 Sanjo's works

The history of Sanjo blacksmiths began in 1625, when the local governor of Izumosaki, Seibei Ohtani, needed a solution to help the local farmers who were suffering from the river's frequent flooding. He invited blacksmiths from Tokyo to teach and encourage the farmers how to make nails to supplement their income. The convenient tools and knives made by modern Sanjo blacksmiths continue this tradition, and these specialty products of Sanjo have become famous all over Japan.
Please check the Regional Products Store homepage for more information about the shop, products and experiences.