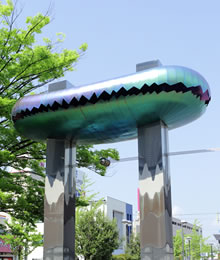 Welcome to TSUBAMESANJO Regional Industries Promotion Center!
We have long been enjoying the patronage of the locals.
There you will find TSUBAMESANJO products; TSUBAMESANJO is Japan's top metalware production area in Niigata. We offer an abundant product line-up ranging from products made by traditional craftsmanship skills to those that are state-of-the art technology! We display and sell about 10,000 items of cutlery, knives, kitchen tools, pots and pans.
We have been recognized as a cutlery and knife center in the old days. People from all over Japan stop at our shop, which we believe that local residents continued favors. contributes to it.
The Tsubame industry switched to cutlery with the changing times, using our hand-hammered copperware skill. We applied the artisanal skill to spoon and fork production technology. By using these expertise, we developed into our present large production center of metal processing including stainless steel pots and kettles.
Sanjo industry starting by instructing and encouraging farmers to produce japanese nails in agricultural off-season. At present, cutlery such as sharp-edged tools and kitchen knives that continue the tradition of Sanjo smithing are specialties with excellent repute all over Japan.
We offer these TSUBAMESANJO specialties of Niigata at a bargain price only available at production area. When you are in hot springs and sightseeing spots like Teradomari Ameyoko (Nagaoka City), Yahiko Shrine (Yahiko Village), Yahiko Hot Spring, Iwamuro Hot Spring, Senami Hot Spring, Tsukioka Hot Spring and Yomogihira Hot Spring, please come by our shop.
Products
Our shop is filled with cutlery, knives and handicrafts!
TSUBAMESANJO specialties make wonderful gifts and souvenirs!
Enjoy shopping and plod around the vast exhibition and sales floor space of 800㎡.
Main products

・Knives
・cutlery
・Scissors
・kitchen tools
・Housewares
・Carpenter tools
・Hexagon kites
・Local sake
・Koshihikari rice
・Echigo's famous confections
Local specialties
You can find all sorts of local flavors and goods that are only available in Niigata, the capital of Japan.