Enjoy shopping and plod around the vast exhibition and sales floor space of 800㎡.
Shop
Parking

Car parking We have parking for 350 cars. Parking is free; take your time to look into our shop.

Tour buses Buses can park right beside our front entrance. We have an assigned parking lot dedicated for tour buses, but normally the bus can park here. Clients can easily find our shop. The roof makes visiting our shop easy in any weather conditions.

Slope

We welcome everyone at our facility. Elderly people and people with limited mobility have easy access to our shop.

Restrooms

Our modern restrooms provide clean and comfortable environment including facilities for the physically challenged.

Relaxation

You have sofas to relax as you enjoy viewing the garden.
Snapshots inside the shop
Click and a separate window will indicate the enlarged.
In addition to above, titanium products and superb items such as hatchets, axes, chisels, planes and tools are available, made by TSUBAMESANJO's proud craftspeople and manufacturers. These products will surely fulfill your journey in Echigo.
Products
We have been specializing in metalware for over 20 years; local residents love our shop and our products. Come and take advantage of our fine products like the locals do.
Cutlery
We take pride in having the highest production share of cutlery in Japan.
Just as cutlery reminds you of Tsubame City, and Tsubame City reminds you of cutlery ,
Starting with stainless steel, we also use titanium, gold and silver plating with mild color tones. As for designs, we offer a wide lineup of designs from simple ones to a professional designer's.
We also have large number of universal design products.

Kitchen knives
Smithing has focused on the Sanjo region for hundreds of years. The start of smithing originates in Japanese nail production that occurred in 1625. Today,
Sanjo are known as one of Japan's foremost knives production areas, compared with Miki City in Hyogo Prefecture.
Please take our kitchen knives in your hand and you can feel the quality yourself. The variety ranges from Sanjo's traditional knive that Echigo Sanjo blacksmiths work on to stainless steel.
Our endless collection includes all-purpose, vegetable-cutting, beef-cutting, broad-bladed, fish-cutting, sashimi-slicing and mackerel-cutting knives. We also have a large number of items for professional use.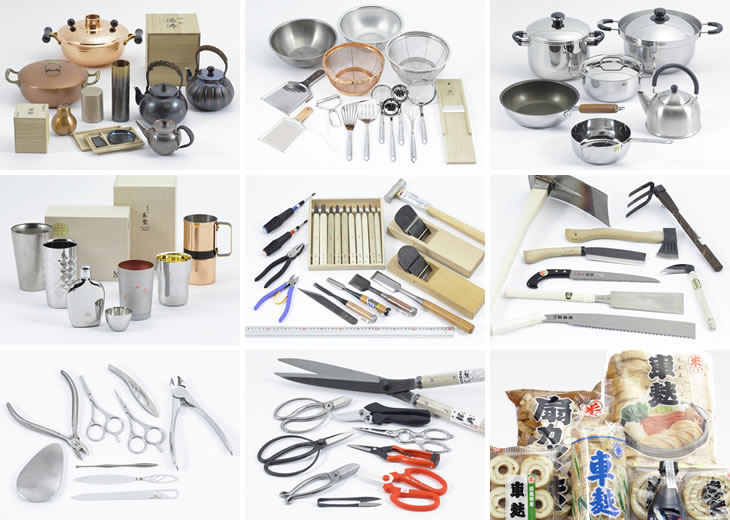 TSUBAMESANJO items covers almost all with cutlery and knives, but go beyond them as befitting our reputation as Metal Town. We even have copperware, scissors, colanders, pots and pans, kitchen tools, carpentry tools, hatchets, plows, saws and more as we have presented… Many people visit our shop, hoping that almost everything made of metal can be found here. Please look at our products yourself and you will find that we meet your expectation. You will enjoy the lineup of the best TSUBAMESANJO products here.
We are also responsive to introduce new products. We displayed the topical Polisher Syndicate Beer Tumbler items almost at the same time as they were announced. We are waiting for you to visit us with still more items including hexagon kites, local sake, Koshihikari rice and famous Echigo confections.